Today formally implemented the first local regulations, the business registration ordinance of Guangdong province
(hereinafter referred to as the Regulations), which brings good news for entrepreneurs in Guangdong, 
provides facilitation on registration and creates favorable conditions for more entrepreneurs.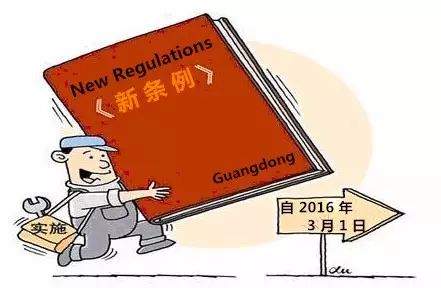 一、《条例》所指的商事登记是指什么?
What does the business registration referred to in the Regulations?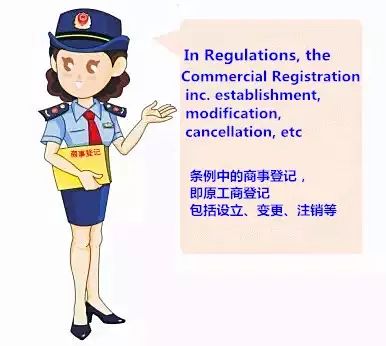 二、《条例》中的商事主体包括哪些形式?
What kind of business subjects are included in the Regulations?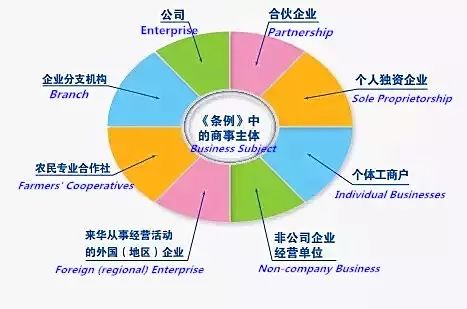 三、《条例》凸显十大创新点 
Ten Highlights in Regulations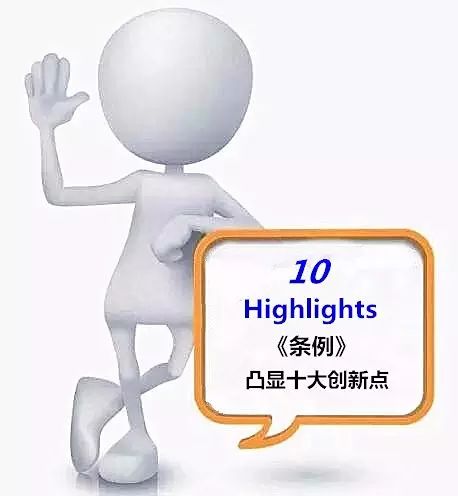 1.在法规层面首次确定商事登记机关对申请材料实行形式审查。即审查申请材料是否齐全、是否符合法定形式。有利于尊重商事主体民事权利,推进商事登记便利化,提高登记效能;
1)For the first time determine authority shall conduct commercial registration form review of the application materials.
2.在法规层面首次调整商事主体部分登记事项。合伙企业合伙人、个人独资企业投资人的出资情况不再作为登记事项,统一企业法人以外的商事主体的场所为"经营场所",统一各类商事主体的分支机构登记事项;
2)For the first time adjust part of the registered items for business subject.
3.在法规层面首次深化商事主体名称改革。放松名称限制,释放名称资源;简化名称登记环节,逐步推行名称自主申报,实行商事登记除名制度;
3)For the first time deepen reform of the business subject name.
4.在法规层面首次确定了公司股权纠纷解决机制。根据民事优先原则和效率优先原则,尽量在源头上防止股权纠纷的发生;
4)For the first time determine the ownership dispute settlement mechanism.
5.在法规层面首次确定了备案的定义、性质和救济途径,避免将备案演变为变相许可;调整备案事项,实行企业秘书制度;明确备案错误先经行政程序予以更正,备案申报人以外的人与备案申报人就备案事项之间发生争议的,应当寻民事途径解决;
5)For the first time identify the definition, nature and the relief way of record.
6.在法规层面首次优化商事登记程序。将受理条件改为材料齐全,将符合法定形式作为准予登记的条件,绝大多数业务可以实现当场受理,更为方便申请人;相较于《行政许可法》,商事登记一般期限缩短了13个工作日,最长期限缩短了16个工作日;在全省推行证照合一登记制度;
6)For the first time optimize business registration procedures.
7.在法规层面首次规定实行电子化商事登记改革。确定了"加具电子签名的电子文件、电子档案与纸质形式材料具有同等法律效力"、"全程电子化登记涉及的电子签名与手写签名或者盖章具有同等的法律效力";
7)For the first time reform the electronic commercial registration.
8.在法规层面首次规定实行商事登记前置许可事项、后置许可事项目录化管理制度、"双告知"制度;
8)For the first time set up the advance & rear license commercial registration management system and "double told" system.
9.强化信用监管。强化企业信用信息公示平台的作用,实现本行政区域内商事主体信息的互联共享;强化对失信行为的惩戒,对被列为经营异常状态等商事主体实行登记限制;强化商事主体不依法公示信息、公示信息虚假的法律责任;强化商事主体未按规定办理备案的法律责任。
9)For the first time strengthen the credit supervision.
For more information on Regulations or Company Registration and Enterprise Services, please feel free to contact with GZ-Timely Visa & Corporation Limited. Seize the opportunity to start up your business in China, you really need professional and reliable business consultants! 
                                                                                                                                                      Source from the internet
                                                                                                                     Timely edit and share
 GZ-Timely keep up with time…
(Thanks for your always attention!)